- Easy to Install - Easy to Clean - An Economical and Energy Saving Solution to Sealing Doorways.
Clear PVC Strip Doors are available in a diverse range of widths and thickness of PVC Strips, to suit applications from pedestrian doors to motorised vehicle doors. Clear PVC Strip Doors provide an economical and simple installation solution.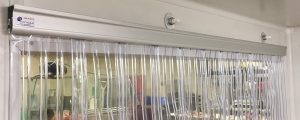 Isolate, Partition or seal off an area
Our exclusive cover strip makes them easy to clean and keeps the construction of the Strip Doors behind the scenes.
Temperature Control – Dust Control – Hygiene Control
Strip Doors can reduce electricity consumption significantly in temperature controlled rooms such as; Cool Rooms, Freezer Rooms, air conditioned rooms and many more.Fork Lifts and Pallet Trolleys can pass through the plastic strips, and are commonly used in food distribution businesses, some of these include; Butchers doors, Bakery doors, and Seafood distribution doors. Our PVC Strip Doors are also used as industrial dust control door solutions for; Mines and workshops to protect machinery from the dust. Here are the links to other Strip Door products; Coloured Strip Doors – Removable Strip Doors – Sliding Strip Doors
Replacement PVC Strips for Strip Doors
If you have an existing PVC Strip Door, you can replace old worn strips with new PVC. Simply click here to view our range of PVC.
If you have trouble finding the right PVC strip for your door, click here to fill out our enquiry form. One of our friendly staff will be in contact with you to choose the best material for your application.