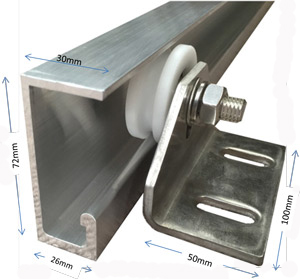 CP-ALU-TTR49- Coldroom Sliding Door Top Aluminium Track
Code:

CP-ALU-TTR49
Weight:

3kg
Price:
$

26.40 / Metre Inc GST
Aluminium Coolroom sliding door top track to suit CP-TTR49 Coolroom sliding door rollers.
Also shown in picture is CP-CMHR2050SS 49mm roller with stainless steel bracket and axle.
Available per metre up to 6500mm lengths (6.5metre).
Enter the length you require in millimetres (example 1950 for 1.95 metres)
Minimum length is 1400 mm.