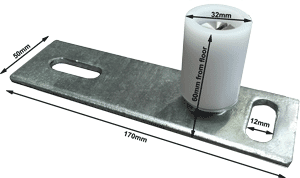 Cold room Sliding Door Floor Guide Roller 32mm Galvanised
Code:

CP-FG1880G
Weight:

.45kg

Coldroom or Coolroom Sliding Door Bottom Guide Roller.

Roller is 32mm diameter and fits inside the aluminium U channel door guide fitted to the bottom of the Coolroom door. With adjustment slots on galvanised base plate.

Usually fitted to floor for cold rooms or Cool Rooms that have a flush entry (no step).

Can be fixed with 12mm Dyno Bolt or similar.