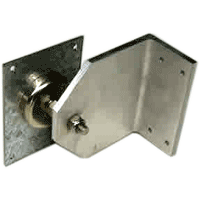 Cold room Magnetic Door Latch with Wall Plate
Code:

CP-Mag-latch

Swing Door Magnetic latch for Coldrooms. Constructed with an aluminium bracket and a high quality magnet.

It is adjustable and supplied with a zinc striker plate.

Easy to install replacement Cool room door magnetic latch.

Not Lockable – Requires an alternative method for locking if required.

Also available is our Cool-room swing door seal.